Two Wheeled Trouble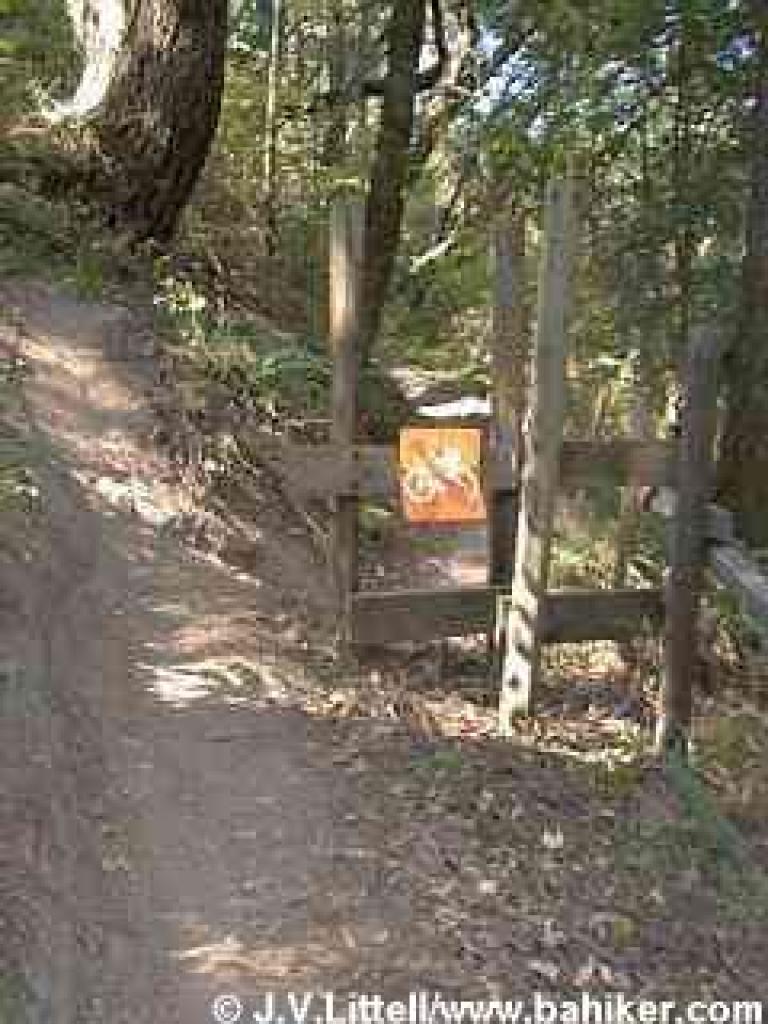 I don't want to start a war here. Some of my best friends are bicyclists and we live together in harmony. But this is a hiking site, and the conflict between hikers and bikers is real. My intention is to make hikers aware of the problems that arise when trails are shared.
Traditionally, paved trails and broad fire roads were open to cyclists, and small, narrow trails to hikers. Mountain biking, seemingly invented on Mount Tam, changed all that, as cyclists are now able to ride those narrow trails previously left to hikers. Some small singletrack-style trails are now open to cyclists, and other trails are ridden by them contrary to the use defined by the preserves and parks. This means that as a hiker, you must be alert for cyclists on hiking-only trails. This is certainly a safety issue, as a collision with a cyclist would do neither of you any good. It's also a constant frustration. When I am hiking on a quiet trail, lost in thought watching a woodpecker, or just breathing in some peace, my Zen gets trampled when a cyclist flies by 2 inches from my face. I respect cyclists, and on trails where they are permitted, I anticipate interactions by frequently looking behind me, and staying to the side of the trail. But when I am on a hiking-only trail, I feel I should be able to relax and drop my guard.
I can't predict how this conflict will change in the future. The bay area is growing, and more people seem to be enjoying getting outdoors. This could result in heavier trail use, and more conflict between use groups.
If you would like to avoid heavy bicycle traffic, you may choose to avoid:
• Annadel State Park (heavy bike use), CSP, Sonoma County
• El Corte de Madera Open Space Preserve (all trails have heavy bicycle use), MROSD, San Mateo County
• Grant County Park (heavy bicycle use, and some illegally cut bike trails), SCCP, Santa Clara County
• McNee Ranch State Park (heavy bike use on weekends), CSP, San Mateo County
• Soquel Demonstration State Forest (heavy bike use), California Department of Foresty, Santa Cruz County
• Wilder Ranch State Park (heavy bike use), CSP, Santa Cruz County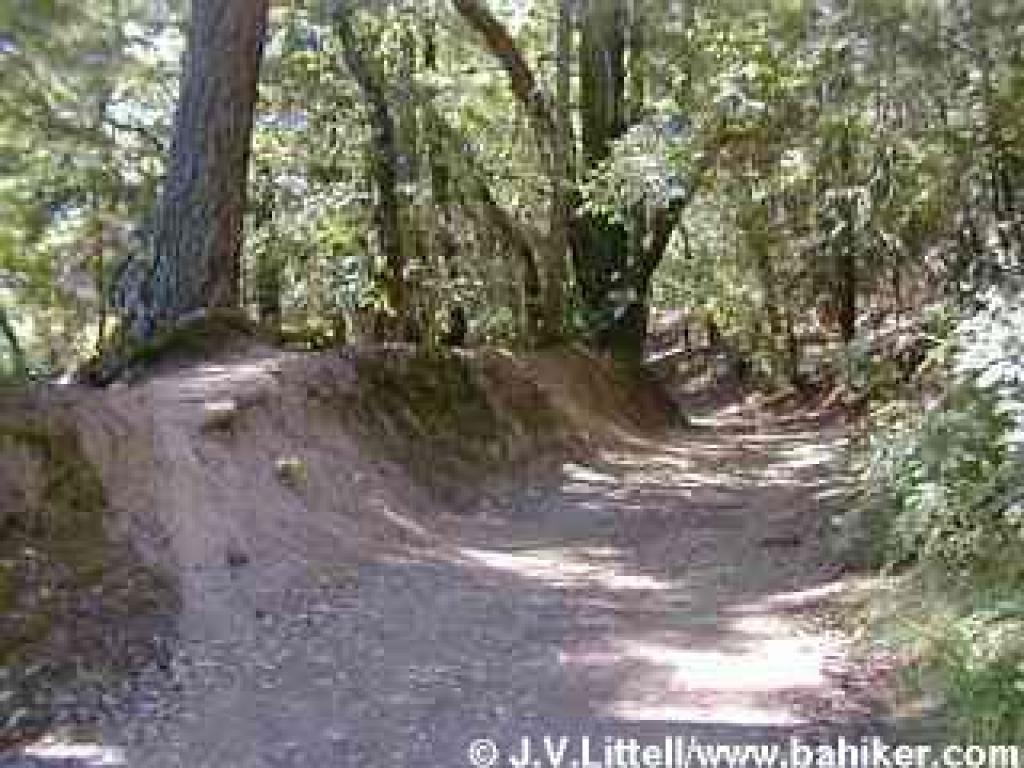 The following trails/preserves restrict bicycle use, mostly successfully:
• Big Basin State Park (bikes permitted on fire roads only), CSP, Santa Cruz County
• Bolinas Lagoon Preserve, Audubon Canyon Ranch, Marin County (no bikes on trails)
• Butano State Park (bikes permitted on fire roads only), CSP, San Mateo County
• Calero County Park (no bikes permitted on any trails), SCCP, Santa Clara County
• Castle Rock State Park (no bikes permitted on any trails), CSP, Santa Cruz County
• Cataract Trail (no bikes on the trail), Mount Tamalpais (Marin Municipal Water District), Marin County
• Coal Mine Ridge, Portola Ranch Homeowner's Association, San Mateo County
• Fall Creek Unit, Henry Cowell State Park (no bikes permitted on any trails), CSP, Santa Cruz County
• Hidden Villa, Santa Clara County
• Huckleberry Botanic Regional Preserve (no bikes permitted on any trails), EBRPD, Contra Costa County
• Indian Tree Open Space Preserve (bikes are permitted only one trail; others restricted), MCOSD, Marin County
• Junipero Serra County Park (bikes only permitted on park roads; no bikes on trails), SMCPD, San Mateo County
• La Honda Open Space Preserve, MROSD, San Mateo County
• Loch Lomond Recreation Area, City of Santa Cruz, Santa Cruz County
• Los Trancos Open Space Preserve, MROSD, San Mateo County
• Los Vaqueros Watershed (no bikes permitted at the County Line Staging Area, south end of the watershed), CCWD, Contra Costa County
• Maurice Thorner Memorial Open Space Preserve (no bikes permitted on the preserve's trail), MCOSD, Marin County
• Miller/Knox Regional Shoreline (no bikes permitted on the trails in the park's eastern section), EBRPD, Contra Costa County
• Mount Madonna County Park (no bikes on park trails), SCCP, Santa Clara County
• Muir Woods National Monument (no bikes permitted on any trails), MWNM, Marin County
• Napa River Ecological Reserve (no bikes permitted), California Department of Fish and Game, Napa County
• Olompali State Historic Park (no bikes permitted on any trails), CSP, Marin County
• Palomarin Trailhead (no bikes south of Wildcat Camp), PRNS, Marin County
• Pichetti Ranch Open Space Preserve, MROSD, Santa Clara County
• Pulgas Ridge Open Space Preserve, MRSOD, San Mateo County
• Portola Redwoods State Park (allowed on paved roads only), CSP, San Mateo County
• Rush Ranch Open Space Preserve (no bikes permitted on any trails), Solano Land Trust, Solano County
• Sanborn-Skyline County Park (no bikes permitted on any trails), SCCP, Santa Clara County
• Sonoma Coast State Beach (includes Kortum Trail and Bodega Head), CSP, Sonoma County
• Thornewood Open Space Preserve (no bikes permitted on the one trail), MROSD, San Mateo County
• Tomales Bay State Park, CSP, Marin County (no bikes on trails, bikes ok on paved park road)
• Tomales Point Trailhead, Point Reyes National Seashore (no bikes on the trail).
• Uvas Canyon County Park (no bikes permitted on any trails), SCCP, Santa Clara County
• Villa Montalvo County Park (no bikes permitted on any trails), SCCP, Santa Clara County
• Westwood Hills Park (no bikes permitted on any trails), City of Napa Parks and Recreation
• Wilbur's Watch (no bikes permitted), Peninsula Open Space Trust
• Wunderlich County Park (no bikes permitted on any trails), SMCPD, San Mateo County

CCWD=Contra Costa Water District
CSP=California State Parks
EBRPD=East Bay Regional Park District
MCOSD=Marin County Open Space District
MROSD=Midpeninsula Regional Open Space District
MWNM=Muir Woods National Monument
PRNS=Point Reyes National Seashore
SCCP=Santa Clara County Parks
SMCPD=San Mateo County Parks Department